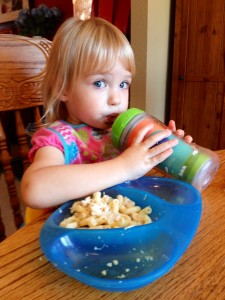 Dear Journal,
Today is day #3 of Little Lady/Daddy-quality-time-week.  While Wife is traveling, we've been having ourselves a good time here at home playing, dancing, eating, singing, and watching TV.  Wife is smart and for the well-being of both Little Lady and me, made a few quick meals before heading out the door.
But like I said … it is day #3 … and the lunchtime food … IS GONE!
Never mind the fact that Little Lady and I have eaten the same lunch every lunch for the last three lunches.
Never mind the fact that we've been rationing our dinners a little more carefully and have had (and hopefully will have) the same dinner every dinner since she left.
At least it is a well-rounded meal.  No one seems to be complaining.  Little Lady will happily drink her meals anyway.  I snapped the picture above shortly after I put a cup of juice in front of her.  She stopped chewing, took all the half chewed food out of her mouth, put it back on the plate, so she could drink instead.  She eventually made it back to finish the chewing.
Fortunately, we are having Little Lady's birthday party, tomorrow, and we will be ordering a pizza.
Saturday: check!
Sunday is normally a day of fasting, right?