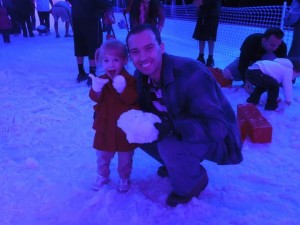 Living in South Texas has its benefits … such as today's mid 70 degree weather … in DECEMBER!
That said, it doesn't snow here.  Well … it did once.  We had just moved here back in February of 2011 and a blanket of ice/snow fell from the sky and the entire city shut down (link).  And I mean really shut down.  Not just school closings but like city-wide-emergency-do-not-even-look-out-the-window-shutdown.  Of course later that afternoon everything was melted and it was back up to the 60's.
Rumor has it that in January of 1985 some 13.5 inches fell over three days, though (link).
So yeah … snow is tough to come by around here … that is unless you know where to look!
Let's turn the clocks back again, this time to December 2011.  Little Lady was just two-months old.  We bundled her up and put her out on a sled during a Christmas visit home to Ohio.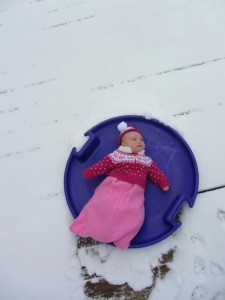 She wasn't really a fan … Granted, at that time she was crying about almost everything (and so were Wife and I…)
Now fast forward back to a much closer past (yesterday) and a trip to Sea World, San Antonio Texas.  That park is pretty phenomenal.  If you ever find yourself living in or around San Antonio for any duration, HIGHLY recommend getting a season pass to Sea World.  There is so much to see and the kid absolutely loves it.  We pull into the parking lot and get a squeal of joy from the back of the mini van followed with, "SHAMU SHAMU SHAMU SHAMU SHAMU SHAMU!!!!!"
And it doesn't hurt that there is basically an entire section of the park dedicated to Elmo…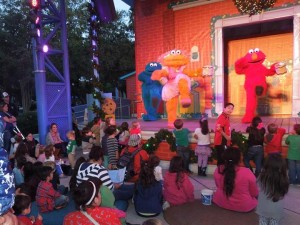 So the awesomeness of Sea World, yesterday, was their "Snow World" attraction.  A number of sites made up "Snow World", to include: pictures inside a giant snow globe, a life-size manger scene with choir, a candy cane forest, marching nutcrackers, thousands of lights, and of course…
More than 4,000 square feet of snowy goodness!
Little Lady was much happier, two years later, to play in the snow.  First of all … she was given mittens to wear.  And that all by itself would've have put the day on her top 5 ever list, just behind Halloween trick-o-treating where she dressed up like Minnie Mouse.  But with the added snow … and it might have crept up.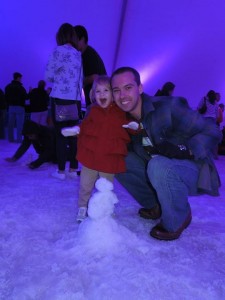 The snow was rather melted and slick, but they had workers with rakes on hand to "fluff" the snow between sessions.  Well worth the visit.  Oh … and there were GIANT polar bears.  Sea World is awesome…