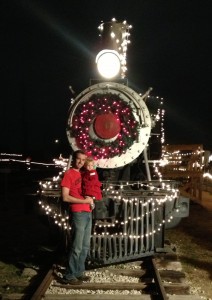 Little Lady is rather independent.  This is not really a good nor is it really a bad thing.  More just a thing.  She loves to play on her own with all her toys.  Sure she loves the occasional company of a parent, a helping hand with a spoon or a difficult puzzle, but more often than not, she is rather content just doing her own thing.
This evening the family and I found ourselves at Santa's Railroad Wonderland.  Pretty neat setup with model trains and real trains all decorated for the Christmas Season.  While there, Little Lady discovered train whistles… and her complete and total fear of them.  Whether it was walking down a path hearing a whistle in the distance, riding on the train and hearing the whistle close by, or even watching a model train chug by giving a little choo choo, her response was the same, grab tight around my neck and burrow her head into my chest.
Awwww… she wants to snuggle!
Yup, you see where this is going.  My Little Lady, the nearly 14-month-old that would rather run and play than snuggle with her Daddy was giving those coveted snuggles away one right after the other.  I love these snuggles!
Ok… before you call Child Protective Services… no, I didn't go seeking out train whistles to terrify my daughter into cuddling with me.  Did I consider it?  Of course!  But no, I figured may not be the best route to take since I personally think trains are super cool and would hate to cause some type of life long anxiety complex between Little Lady and trains.
It was nice, though.  She wanted her Daddy to protect her.  Protect her I did and protect her I always will.  Snuggles from her are special moments that I really treasure.
Now the big man in a big red suit… I don't think it would be the worst thing if she always feared strangers in funny clothes handing out candies and toys.  So maybe I'll just get my snuggles through that jolly fellow.