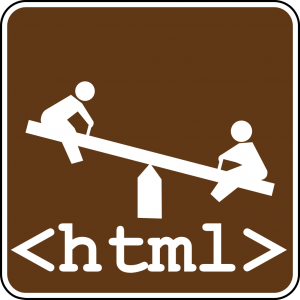 What is geekier than coding your own iPhone and iPad app?  How about coding your own coding app for iPhone and iPad?
Yup, it has been done!
Let me introduce you to…. HTML Playground!
AppStore: https://itunes.apple.com/us/app/id597188665?mt=8 PawApps: http://www.pawapps.com/apps/html-playground
I battled the Apple AppStore approval process on this one for a little bit, but it finally made it last night and has been having a great first day out in the wild.
Here is a quick blurb:
HTML Playground is full of the features you need to develop webpages on the fly. Whether just learning or a seasoned coder, HTML Playground offers a wide range of supported technologies and quick/easy input and navigation. ✓ Easy HTML input with most used tags on the keyboard ✓ HTML5 Supported! ✓ JavaScript Supported! ✓ CSS Supported! ✓ Tutorials included (HTML/JavaScript/CSS) ✓ Create... new webpages ✓ Import... existing webpages ✓ Export... created webpages ✓ Flexible views for heads down coding or viewing ✓ Search for finding the right line of code ✓ History for custom and imported webpages ✓ Import webpages directly with htmlpg:// URL scheme ✓ much more...
And here are a few screenshots:
| | |
| --- | --- |
| [![HTML Playground Sample](/assets/wp-content/uploads/2013/02/HTML-Playground-Sample-300x225.png)](/assets/wp-content/uploads/2013/02/HTML-Playground-Sample.png) | [![HTML Playground](/assets/wp-content/uploads/2013/02/iOS-Simulator-Screen-shot-Feb-5-2013-9.00.25-PM-300x225.png)](/assets/wp-content/uploads/2013/02/iOS-Simulator-Screen-shot-Feb-5-2013-9.00.25-PM.png) |
| [![HTML Playground](/assets/wp-content/uploads/2013/02/iOS-Simulator-Screen-shot-Feb-5-2013-9.01.01-PM-300x225.png)](/assets/wp-content/uploads/2013/02/iOS-Simulator-Screen-shot-Feb-5-2013-9.01.01-PM.png) | [![HTML Playground](/assets/wp-content/uploads/2013/02/iOS-Simulator-Screen-shot-Feb-5-2013-9.03.01-PM-300x225.png)](/assets/wp-content/uploads/2013/02/iOS-Simulator-Screen-shot-Feb-5-2013-9.03.01-PM.png) |
| [![HTML Playground](/assets/wp-content/uploads/2013/02/iOS-Simulator-Screen-shot-Feb-5-2013-9.05.08-PM-300x225.png)](/assets/wp-content/uploads/2013/02/iOS-Simulator-Screen-shot-Feb-5-2013-9.05.08-PM.png) | [![HTML Playground](/assets/wp-content/uploads/2013/02/iOS-Simulator-Screen-shot-Feb-5-2013-9.26.47-PM-200x300.png)](/assets/wp-content/uploads/2013/02/iOS-Simulator-Screen-shot-Feb-5-2013-9.26.47-PM.png) |
| [![HTML Playground](/assets/wp-content/uploads/2013/02/iOS-Simulator-Screen-shot-Feb-5-2013-9.28.12-PM-200x300.png)](/assets/wp-content/uploads/2013/02/iOS-Simulator-Screen-shot-Feb-5-2013-9.28.12-PM.png) | [![HTML Playground](/assets/wp-content/uploads/2013/02/iOS-Simulator-Screen-shot-Feb-5-2013-9.29.42-PM-200x300.png)](/assets/wp-content/uploads/2013/02/iOS-Simulator-Screen-shot-Feb-5-2013-9.29.42-PM.png) |
| [![HTML Playground](/assets/wp-content/uploads/2013/02/iOS-Simulator-Screen-shot-Feb-5-2013-9.30.05-PM-200x300.png)](/assets/wp-content/uploads/2013/02/iOS-Simulator-Screen-shot-Feb-5-2013-9.30.05-PM.png) | [![HTML Playground](/assets/wp-content/uploads/2013/02/iOS-Simulator-Screen-shot-Feb-5-2013-9.31.57-PM-200x300.png)](/assets/wp-content/uploads/2013/02/iOS-Simulator-Screen-shot-Feb-5-2013-9.31.57-PM.png) |