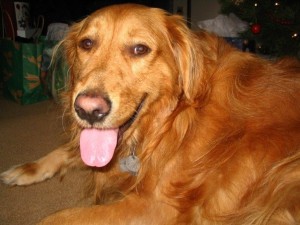 Saying goodbye to a pet is of course very difficult.  I have not been able to spend much time with Maggie over the last few years due to being away from Cincinnati.  She lived with my parents.
We got her right before my Senior year in High School.  She was a puppy full of life that struggled with authority.  For a while we weren't sure whether we were going to be able to keep her due to those personality issues.  As time progressed, though, we realized that she had a few issues more than just an issue with authority.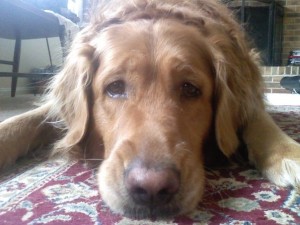 Her weight climbed well passed the average female Golden Retriever weight of 60 pounds.  70, 80, 90, triple digits were soon reached.  Thyroid issues plagued her body and her mind.  She was medicated for most of her life.  Slower than other dogs although quicker to tire, preferring to rest over run.
The time that I was at the house through Senior year of high school and occasionally throughout college.  All 100-something pounds of Maggie would crawl up in my twin bed with me as I got ready to sleep.  She took up more of the bed than I did!  I remember one night waking up only to realize that I was curled in a ball at the foot of the bed while she slept drooling on my pillow … oh Maggie …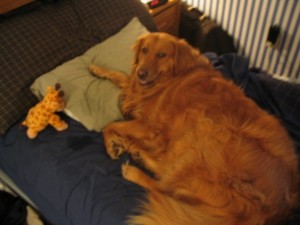 A few years back she started to wander off from my parent's non-gated back yard.  This was one of her new quirks.  All of the neighbors knew who she was.  How could you not?  For years they had seen the disheveled Golden go on walks, sniffing all the mailboxes like any other dog.  So many times people commented about her having bad hips due to her weight … yeah, ya think?  The neighbors would bring her back and Maggie would happily bound as much as she bounds, happy to be home.
This time was different.
I got a phone call from my parents telling me that she had run off and they couldn't find her.  My Dad was out making fliers to hang around the neighborhood.  Needless to say, I was upset.  My puppy was gone.  Wife (then fiance) and I hurried as fast we could over to the house to help in the search.  No more than 10 seconds after I pulled into the driveway and called her name, I heard her bark.  Just 50 feet away under the next door neighbors house, Maggie was camping out under their deck.  She had watched my parents call her and walk back and forth more than a dozen times … just chillin' in the shade wondering what all the fuss was about.
What a silly pup.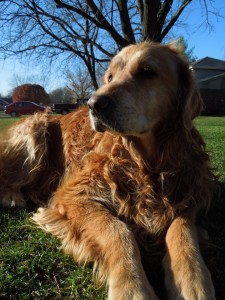 I got to see her a few months back.  She had started losing weight and some of the puppy that had been lost in the pounds was back.  She ran in the yard and it is possible that she may have even jumped, all four paws leaving the ground!  The pounds kept coming off, though, and for reasons that were apparently not all too healthy.
She will be missed.  A few years back, five or ten I really don't remember I wrote a short piece titled "Kelly".  Kelly was our family dog before Maggie.  I have posted it on this blog previously, but would like to repost it here in memory of Maggie.  Love you Maggie!
Kelly
The shadowy memories of yesteryear are about as clear of my vision of today. However, the feelings and emotions are still resilient and alive in my slowing mind. If someone were to ask me how I was today, I would answer "old and weak… old and weak", but the cool surface under my body sooths my aching muscles. Slowly, I blink my eyes; nothing happens any faster than slow these days. Slowly stand up. Slowly walk to the door. Slowly eat my food and drink my water.And slowly lay back down. Lying here, I know there is love in the room, it's just a sense we have, we know when we are wanted and we know when we are loved.
The room around is so bright; I rest my eyes for a little while.Remembering the past is difficult, my mind yearns to just remain in the present, doing nothing but taking in whatever sensory feelings I have left. Although, remembering the past is a way to keep going when you are as I am. With my eyes closed, I am able to concentrate on the past, blocking out all the illness of the present. My favorite memories are the furthest back. I was much smaller then, crawling under the rungs of kitchen chairs… sitting by the window, watching the birds outside, waiting for just the right moment, when they would all be gathered on the closest branch, then giving a convivial bark sending them scattering with flustered feathers… running after a ball… tearing apart toys… but nothing, compares to bedtime, following heavy footsteps up the stairs, taking a right, and another right at the end of the hall, then sitting there expectantly, until he, my best friend, invites me up onto the bed. There we snuggle with soft warm sheets, and each other, dreaming of the joys of tomorrow.
I remember Christmas mornings, everyone filled with so much happiness, tearing open paper packages. I would get so excited and help as much as I could with bows and ribbons, running with them when they came free. I remember car rides, my head hanging, and tongue flapping in the wind, with an intoxicating overdose of aromas, from every building and every person we pass. I remember table scraps, and I remember my spot, in the family room… the carpet, warn as I; the only spot in the house the sunlight never seems to leave…
My eyes blink open and I am brought back to the current moment as a hand touches my head. It's a gentle hand, rubbing my ears and neck with affection. My family is here, I know their touch, and I know their scent… we may lose our minds, but we never lose our nose. With me through the years, they are who I love, as I am for them. The hand leaves my side, but the affection is still there. A twinge… a peck… a sense of relaxation. Slowly, I blink my eyes; nothing happens any faster than slow these days. I feel tired, old and tired, but relaxed. I close my eyes, so relaxed, and listen to my breaths, intentional and slow. Everything feels right… I know it is… and then I sleep.