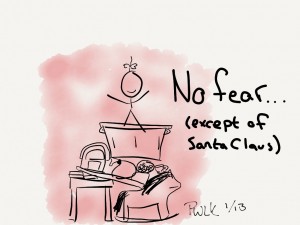 The sounds you hear at night in a home can be really quite unnerving.
A furnace turning on…
The hum of a ceiling fan…
Refrigerators running with ice makers settling…
Sinks dripping…
… and Little Lady throwing heavy objects from her crib!
Really this has become a nightly occurrence   Wife and I will be downstairs and both our eyes will shoot to the ceiling at the sound of a loud THUMP from upstairs.
"Could her bottle make that loud of a thump? … or did she just learn to climb out of her crib…?"
So far so good.  No great escapes to date.  Little Lady is sure loving to climb all the boundaries we have set up in the Family room, though the crib has yet to be conquered.
Most of the time I really enjoy watching her climb the boundaries we have set up for her.  Such concentration.  Such effort.  Grunting and grasping for footholds and protrusions to hold onto… a big grin is always guaranteed when she reaches the peak.
But then of course she'll stand up and I'll have a mini heart attack that she's gonna fall and break her neck…
Oh parenthood… every single moment of every single day threatens promises to bring new adventures!
How does your Little One keep you on your toes?