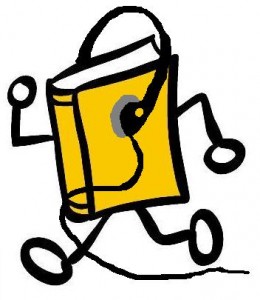 For the last month I've been wanting to write a post about my new found obsession with audio books.  It wasn't until a few minutes ago that I saw the title to a Huffington Post article ("Stop Binge-Watching and Start Binge-Reading") that I knew I had the perfect title for the post and just decided to make the time and write it!
So yeah, audio books.  They are awesome!  It has actually become sort of an addiction.  When I get in the car first thing I do isn't check my mirrors … it isn't put my seat belt on … it isn't even putting the keys in the ignition!  It's get the OverDrive Media Console up and running on my iPhone!
I started out listening to audio books this past December during the holidays and when I was taking some paternity leave.  I had some extra time during the day and decided it might be good to get out and get back into running.  I've never really enjoyed running, but I will occasionally get the motivation up to get out and go for my health … and yes, my career.
Music is good and all, but Pandora gets repetitive.  My personal collection on Google Play, even with its more than 24 days worth of continuous play music … still somehow gets old.
So I decided to try out some audio books.  I first found a free app that had lots of free books to listen to, most of which were the classics.  So I started out with "Treasure Island".
Hooked!
Since then (mid-December, just under three months), I have run 107.2 miles, for 17.4 hours, burning 13,923 calories.  This compared to the 68.4 miles I ran in the first 11 months of 2013.
What an awesome side-effect!
And forget Audible (I checked it out and could not believe how expensive it is)!  Your local public library has thousands of books (e-books and audio books) that can be downloaded for FREE on OverDrive.  And if you too are in the Navy, the Navy has a library you can use.  No excuse!
I am super excited about audio books and have been evangelizing them to just about anyone that will listen.  I tell them how awesome getting stuck in traffic is, now.
"I hit a red light or stop-and-go getting off the highway and I say 'YAY!', more time for my stories!"
Yeah, mostly I just get looks like I'm crazy … but eh, nothing new.
So here's what I've been through so far … I track everything (including real-life-printed books on GoodReads if you want to find me there):
Treasure Island - Robert Louis Stevenson

The Adventures of Tom Sawyer - Mark Twain

The Adventures of Huckleberry Finn - Mark Twain

The Adventures of Pinocchio - Carlo Collodi

Alice in Wonderland - Lewis Carroll

Born to Run - Christopher McDougall

Ice Hunt - James Rollins

Peter Pan - J.M. Barrie

The Great Gatsby - F. Scott Fitzgerald

World War Z - Max Brooks

Heaven is for Real - Todd Burpo

Brick by Brick - David Robertson

Decision Points - George W. Bush
And currently working my way through Duty: Memoirs of a Secretary at War by Robert Gates.
Your public library is definitely the way to go.  If I were to have gotten these books on Audible, I would have had to pay about $165 already.  And I would then also be out of books for the next nine months!
But don't take my word for it…