Weeknights are generally fairly consistent around our house.  Home from work -> play with the kid -> dinner -> bath -> bed.  We had a nice change of pace yesterday, though.
Over the weekend, read an article in the Navy Times about Ron White, who is a memory champion as well as a former Navy Reserve IS1 (Intelligence Specialist, First Class).  He has decided to pay his respects to the nearly 2,200 US Military members that have made the ultimate sacrifice over the last 12 years in Afghanistan by memorizing each and every name and rank and spending some 11 hours straight writing them on a wall (Vietnam Memorial style) for public display.
His first city to do this in was Fort Worth, Texas.  And what do ya know… his next city stop on a 50 city tour to support the Wounded Warrior Project was San Antonio!
Wife and I decided we needed to go see it.
It was well worth the trek downtown.  Unfortunately I had worked a bit late and by the time we got down there, about 7:00 pm, Ron White was already done writing names on the wall.  He was, however, still hanging around taking questions and talking with folks that stopped by.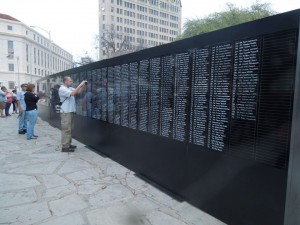 The picture shows what it looks like, and for Wife and I who do not know personally a name on the wall, the memorial could only mean so much.  But here is an excerpt from the Navy Times article that really hits the value of this project home:
A spectator arrived and asked when he'd be writing the name of Army Pfc. Austin Staggs, who died** **from small-arms fire in an insurgent attack in Nangarhar province in November 2010. White asked the woman whether she knew Staggs. "He was my grandson," she replied. "I came out here to watch you write his name." White told the woman it would be at least two more hours. She sat down in a chair and waited. About three hours later, he told her, "Ma'am, I'm about 10 minutes away," and apologized for the delay. She said it was fine; it had given Staggs' mother time to come and watch the name go up. Others stopped by to pay tribute to family members and those they had served with. White finished the list, stepped away from the wall and saluted.
In addition, on his website, friends and family members are leaving notes of thanks for Ron doing this project.  Ron will write back stating how he remembers that individual's loved on.  Basically he associates the names with physical places he's been, whether the magazine rack at a bookstore or a hamburger shop.  But good luck getting through more than a few comments without getting choked up…
This my dear Internet … this is good stuff.
While downtown at the Alamo Plaza, we could hear a band playing in the Pavilion just 50 yards away.  Wife, Little Lady and I headed that way to find a jazz quintet from US Air Force Band of the West.  A small crowd was gathered to listen to the music and enjoy a beautiful March South-Texas evening.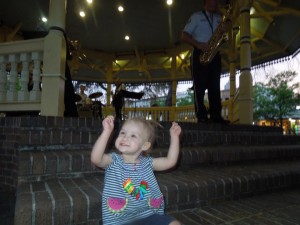 Little Lady loved listening to the music, and the musicians were excited to show off their instruments to her.  She would jump when the trombone would BOP out a note and clap her hands with the rest of the audience.  Little Lady got a front and center seat on the steps leading up to the pavilion to listen while playing with sticks she found on the ground
I may not like the weather in San Antonio.  I may not like the types of bugs, lack of real trees, or traffic lights … but I do love the military culture this place has.  A reverent appreciation at the Afghanistan Memorial, a celebration of the goodness that is music at the pavilion, all just out front of the Alamo, a landmark that symbolizes honor, courage and commitment … and is so much a part of the heart of a Texan.
Honestly, I won't be sad to say goodbye to this city, but I will always appreciate our time here.